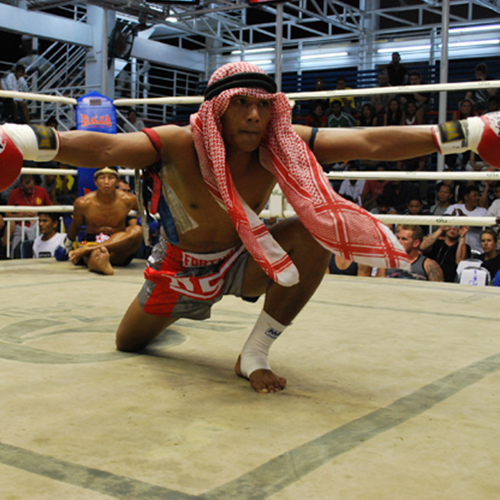 Namsaknoi Yudthagarngamtorn is a retired Muay Thai fighter from Thailand. He holds one of the highest winning percentages (95% wins in 300 fights), and one of the longest reigns as a Lumpinee Stadium Champion in history, remaining undefeated for the 135 lbs title between 2000–2006.
Namsaknoi is known for his graceful and elaborate Wai Kru Ram Muay, winning the award for the best Wai Kru Ram Muay of the year twice, in 2001 and 2006:
He held wins over Muay Thai legends such as Saenchai, Samkor Kiatmontep, Kaolan Kaovichit, and Neungpichit Sityodtong
Namsaknoi vs Saenchai:
Namsaknoi was born Muhammud Chaiyamart in a small fishing village in the Southern Thailand province of Surat Thani. He was the youngest of 7 siblings, of whom an elder brother (Ges Chaiyamart) was also a Muay Thai fighter. Namsaknoi's parents struggled to feed the family on a fisherman's meager income, which was one of the key motivations that drove the young Namsaknoi to Muay Thai when he was 8 years old to help support the family.
Namsaknoi adopted his fight name from his uncle, the original Namsak, who was a well-known fighter in the South. When he was 12, his trainer brought him to Bangkok where he would have access to higher quality training and fight opportunities.
When he was 17 years old, he was voted and won the highly prestigious Sportswriters Association of Thailand Fighter of the Year Award of 1996. He was one of the youngest fighters to win the accolade at that time.
He won another, different Fighter of the Year Award 3 years later, given by the Sports Authority of Thailand. Later, he was acquired by Por Pramuk Camp in the outskirts of Bangkok, where he would remain until his retirement.
Namsaknoi held the 135 lbs Lumpinee Stadium Belt for an astounding 6 years, until his retirement in 2006, ending his career with an impressive record of 280 wins, 15 losses, and 5 draws.For his long reign as the unbeatable champion, the Thai media gave him the nickname of "The Emperor".
Namsaknoi left Por Pramuk camp after a bitter dispute over the mismanagement of his fight winnings. The fallout that shocked the Muay Thai community forced Namsaknoi into retirement, as no gym was able to pay Por Pramuk's asking price to buy over Namsaknoi's contract. Destitute with no money nor belts to his name (he left most of his physical possessions in the camp when he walked out), Namsaknoi returned to his hometown of Chaiya in Surat Thani province, never to step into the rings of Bangkok again.
After retirement, Namsaknoi worked as a trainer in the tourist-heavy islands of Southern Thailand, spending a couple of years in Koh Phangan, Koh Samui, and Phuket. In 2010, he was approached by Chatri Sityodtong to join Evolve Mixed Martial Arts in Singapore, where he worked as a Muay Thai instructor for 6 years. He was a Muay Thai coach for Rafael Dos Anjos, Tarek Saffidin and Shinya Aoki.
In early 2016, Namsaknoi left Evolve MMA as their Head Muay Thai Instructor, and returned to Koh Phangan, Thailand to set up his own Muay Thai gym, named Namsaknoi Muay Thai Club. The gym was opened on 14 October 2016. However in December 2017, Namsaknoi left his gym in Koh Phangan, despite growing interest and success of the gym.
In 2019 he was for one year a Co Trainer in Germany, at the Fight Club in Ludwigsburg.
Titles and accomplishments
Muay Thai
Lumpinee Stadium
1995 Lumpinee Stadium Fly Weight Champion 112 lbs
1999 Lumpinee Stadium Super Feather Weight Champion 130 lbs
2000–2006 Lumpinee Stadium Light Weight Champion 135 lbs

World Muay Thai Council
1995 WMC World Champion 112 lbs

World Association of Kickboxing Organizations
2010 WAKO Pro World Muay Thai Champion 154 lbs

Ford Ranger Tournament 126 lbs Champion

Champion of South of Thailand 126 lbs

Champion of South of Thailand 95 lbs

Awards
1999 Sports Authority of Thailand Fighter of the Year

2001 Sports Writers Association of Thailand Fight of the Year (vs Kaolan Kaovichit)

2002 Sports Writers Association of Thailand Fight of the Year (vs Pajonsuk Lukprabat)

Best Ram Muay of the Year 2001

Best Ram Muay of the Year 2006

Boxing
Pan Asian Boxing Association
2002 interim PABA Boxing Champion 135 lbs
Comments: